If my imagination were an animal, it would be a honey badger.
Once my imagination gets going, it's impossible to stop, utterly ridiculous, and even a little bit scary.
Thus, I have been predisposed from a young age to all forms of geekery, including but not limited to: obsessive love of fantasy novels/science fiction novels/TV shows/movies of the same, etc.
One of the more disappointing parts of my childhood was coming to the realization that all the fantastical, interesting places I'd read about in my beloved books (yes, I was a book snob, even as a wee lass) weren't, in fact, places I could visit.
As an adult, I still love to read about well-crafted chimerical places. Here are five places that I really, really wish weren't imaginary:
1)   Hogwarts, from Harry Potter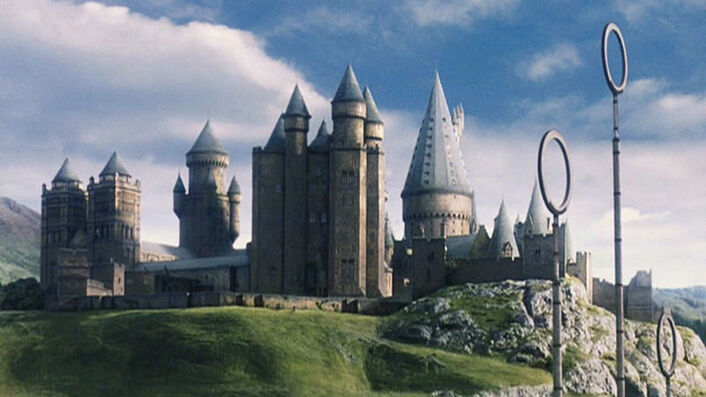 I know, I know, very original of me. Seriously, who doesn't want to go to Hogwarts? (Draco, put your hand down.) Of course, to go to Hogwarts, you'd have to have magical powers, which is not something I would, you know, consider a deterring factor.
I could even play Quidditch!
 ~*~
2)   Rivendell, The Lord of the Rings Trilogy
I snaping <3 elves. From their names, to their tights, to their pointy little shoes – I love it all. Even though my inner stickler railed against the gratuitous elf scenes in the movies, I'll be honest and say that every time I saw Legolas prance onto the screen, I completely forgot all my qualms.*
*This is at least partially due to the overwhelming and completely distracting hair jealousy begat by all the majestic manes of hair atop the elves' heads.
~*~
3)   TARDIS, The Whoniverse
I know many people consider the TARDIS as exclusively belonging on the telly, but there's actually a whole slew of books based of the TV series, so it's rightfully going on here!
The wonderful thing about the TARDIS is that it can take you anywhere to anywhen. The possibilities are endless. Additionally, it's normally manned by a delightful British man with a spunky taste in fashion (also known as a Time Lord).
What's not to love?
~*~
4) Candy Room, Charlie and the Chocolate Factory
You can't tell me there hasn't been at least one time in your life where you wanted to go swimming in a pool of chocolate.
If anyone wants to build me a candy room, I will marry you on the spot.
~*~
5) Camelot
Truth be told, I largely want to visit Arthurian England in the hopes that Arthur and his Knights are exactly as they are in Monty Python and the Holy Grail, right down to the coconuts. However, I'm willing to settle for them not being like that* (by which I mean, hysterical), because most novels involving Camelot make up for it with tales of dragons, handsome knights, and warlocks, among many other entertaining things, which almost makes up for it.
*This is saying a lot. I really love all things Monty Python.
I even named my guinea pig after one of the men who acted in Monty Python.
Can you guess who?
A correct guess will get you an imaginary ride on the dodisharkicorn's back.*
*becomingcliche, you are not allowed to guess because you probably already know. However, next time I offend you (by which I mean, next time I take Snape's name in vain), I will offer a ride on said dodisharkicorn's back as a conciliatory gesture.
~*~
WAIT, THERE'S MORE!
We found out that people didn't get subscriber notifications for the new post yesterday, so in case you missed it (or just want to gaze upon its splendor again), check out sj's excellent ranty rant. It's hilarofl, and full of SCIENCE!
~*~
Credit where credit is due:
~ Original honey badger image courtesy of National Geographic
~ Hogwarts image courtesy of Harry Potter Wiki
~ Rivendell image courtesy of LOTR Wikia
~ Original elves image from womangeek.com
~ TARDIS image Courtesy of zir.com
~ Candy room image courtesy of Flavorwire
~ Camelot image Courtesy of Wikipedia
~ Everything else is my ridiculousness!
 ~*~