This post is for Mrs Heather at Between the Covers.  She's kind of the only person I expect to be as outraged as I am.
(2) Orc is not an English word. It occurs in one or two places but is usually translated goblin (or hobgoblin for the larger kinds).
So sayeth Mr Tolkien in the Author's Note of The Hobbit.   If one has actually READ the Author's Note, one would be aware that this means that those beasts referred to as "goblins" in The Hobbit are the "orcs" mentioned in the rest of the Middle-Earth books.  Right?  Right.
Also, don't forget we talked about this during the very first Puttin' the Blog in Balrog post.
SO!
This would lead one to believe that (as Jacksoned as they may be) the goblins in the upcoming (three!  wts, three?!) Hobbit movies would look pretty much like the orcs from the LotR films, yes?
Well, that's where you would be wrong.
Let's take a look at a handful of orcs from the films we already have, shall we?
We have Gothmog (foreverafter referred to as Waits Orc, cos he sounds like Tom Waits):
We have Grishnakh:
And various other orcs at play: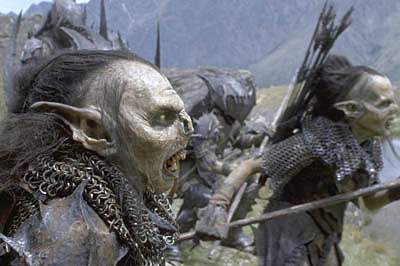 Imagine my surprise when today when I see an article about the new toys being released for the (three!) Hobbit movies.
In case you're too lazy to click, this is what they've decided the Great Goblin (y'know, the King Under the Misty Mountains?) looks like:
Whaaaaaaaaaaaaaa?  No.  So I decided to watch the newest trailer, which I've already been adamantly opposed to, but it was for SCIENCE YOU!
I found this:
WHAT THE ACTUAL SNAPE, THAT IS NOT A SNAPING ORC, THAT IS SOMETHING COMPLETELY DIFFERENT!!!!!!
Capattack totally necessary.
No, seriously, I am so beyond angry about this that I've been ranting to myself about it all day.  Then I said "Wait, isn't that what you have a blog for in the first place?  Write that ish up!"
So I am.  And I know that no one else views Peter Jackson's interpretations of these works with as much disdain as I do, but COME THE SNAPE ON!  You already created this species THE LAST TIME!  I don't understand why the snape an entire new species had to be created HAVE YOU EVEN READ THE BOOKS?!
Ugh.